Wow! What a super fun weekend we had!!! We decide at the last minute to go to St. George for the weekend. We left on Sat. afternoon and came back home on Monday night. On Sat. night we went to Pirate Island for the Porter and James birthday! The kids had a blast. I was able to get some cute pictures of the kids and Matt with their Pirate hats on!!! Then the rest of the weekend we went swimming. The kids had so much fun swimming with Matt! He is the best dad ever!!! I decided Emma was still a little young to swim so Emma and I watched and took pictures. The kids are great swimmers and love to swim with Dad!!!
Abby jumping into the swimming pool!


Porter jumping into the pool to Matt!


James jumping into the pool to Matt!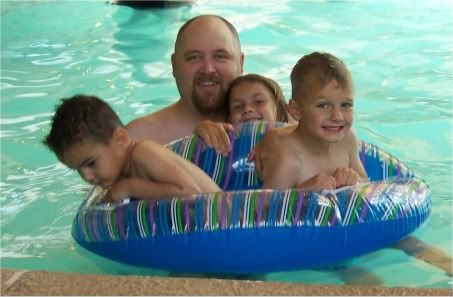 Having a blast swimming!
The kids having fun doing a craft! They made sun catchers!

They did a great job they turned out GREAT!!!
Emma loved St.George!
Just hanging outside enjoying the nice weather in St.George. The kids love to color and read! The weather was really nice it was not to hot or cold. Just right!!!